"Er zijn twee soorten bedrijven: bedrijven die gehackt zijn, en bedrijven die gehackt gaan worden."
Dit is een bekende quote van voormalig FBI-directeur Robert Mueller.
Cybersecurity experts hebben een eigen variant: "Er zijn twee soorten bedrijven: Bedrijven die aangevallen zijn en bedrijven die nogmaals aangevallen worden."
Geavanceerde aanvallen zijn nog nooit zo hardnekkig als dat ze nu zijn. Bedrijven hebben daarom behoefte aan betere oplossingen om deze bedreigingen aan te pakken. Volgens collega Erka Koivunen zit hem dat vaak in het onvermogen van veel bedrijven als het gaat om het detecteren van bedreigingen. Om in deze behoefte te voorzien is de EDR (Endpoint Detection and Response) markt ontstaan.
In de onlangs gepubliceerde "Market Guide for Endpoint Detection and Response Solutions" rapport, identificeerde Gartner EDR-oplossingen aan de hand van de volgende criteria:
Detecteert beveiligingsincidenten.
Pakt het incident aan op de endpoint.
Onderzoekt beveiligingsincidenten.
Repareert de endpoint.
De EDR-oplossingen die in het rapport genoemd worden, bieden dezelfde mogelijkheden als beschreven in de Detect en Respond fases uit het Gartner's Adaptive Security Architecture: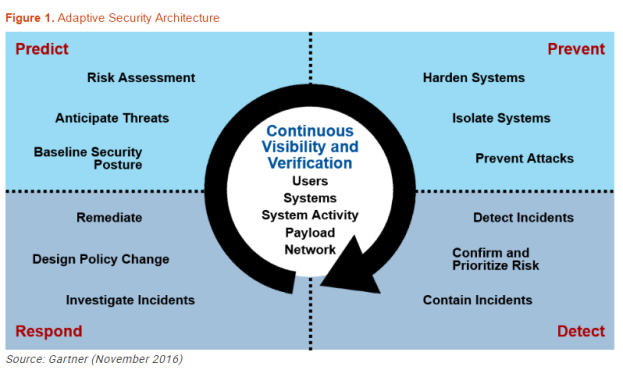 Bron: Gartner's Market Guide for Endpoint Detection and Response Solutions
Het blijft belangrijk om ons te beseffen dat het opsporen van gedrag ingewikkeld en niet heel nauwkeurig is. Daarom moet cybersecurity ook altijd een samenwerking zijn tussen mens en machine. En dat is de grootste uitdaging van veel bedrijven: het aannemen, trainen en behouden van cybersecurity talenten. Daarom is er ook steeds meer behoefte aan managed services. Met name bij het MKB.
Jyrki Rosenberg, Executive Vice President van F-Secure's Corporate Security Business Unit, zegt het volgende:
"Als toonaangevende cybersecurity bedrijf, zijn we vereerd dat we erkend worden als Representative Vendor in Gartner's Market Guide for Vulnerability Assessment. We zijn blij dat we gezien worden als aanbieder van Endpoint Detection and Response oplossingen. We zijn ook erg trots op onze producten die voorzien in de behoefte van bedrijven van elk formaat.'
The State of Cyber Security 2017
Download hieronder 'The State of Cyber Security 2017', ons gloednieuwe onderzoeksrapport vol met analyses, gegevens en inzichten van experts om jou te helpen het veranderende security landschap inzichtelijk te krijgen.